December 24 marks Christmas Eve: Take a look at other major events
Why December 24 is a Historic Day? Know why the treaty of Ghent was signed on this day? 
---
National Consumer Day In India
·     24th December is marked as National Consumer Day in India every year. This day is celebrated each year with various themes. It is observed on the 24th as in 1986 on 24th December, the Consumer Protection Act got the president's assent. This day is also observed in honour of the consumer movement and to make people aware of the consumer rights that they're entitled to. The Consumer Protection Act is an act that ensures consumer safety so that the consumers are not misled by any seller. This protects consumers and conduct necessary investigations in case of consumer complaints.
(National Consumer Rights Day in India) 
·     As mentioned above, National Consumers Day is celebrated with different themes and the theme for 2020 is 'The Sustainable Consumer'. This theme was decided by keeping in mind the drastic global crisis, climate change and biodiversity loss. The theme will promote a sustainable lifestyle and highlight the part that a consumer must play for having a sustainable living and leading a sustainable life.
Read more: History Of 23rd December – Interesting Events Of This Way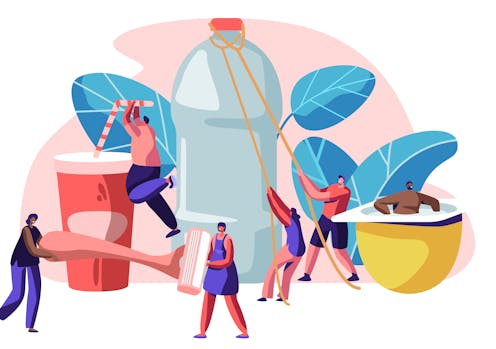 (Avoid Non-Biodegradable Items and Shift To Sustainable Living) 
Treaty of Ghent Was Signed Between America and Great Britain
The United States had declared war against Britain in June of 1812 in response to Britain supporting some Indian tribes along the Great Lake frontier. Another reason was  Britain's economic blockade of France and also Britain took in a number of American boatmen into the British Navy forcefully. On 24th December 1814, the American and British representatives decided to sign a peace treaty to end the war between the two.
The treaty was signed in the city of Ghent, Belgium and according to the treaty, both the countries would have to return each other's conquered territories, thus ending the war between them and restoring the relations between the two parties.
Click here to watch a detailed video of theTreaty of Ghent – 
(The Signing of The Treaty of Ghent) 
Christmas Eve Is Celebrated
It is believed in Christianity that Jesus Christ was born in the midnight of 25th December and thus in honour of the same and for early celebrations. Christmas Eve is one of the most significant and important evenings for all those who celebrate Christmas.
Every year on Christmas Eve, there are family gatherings and later on, the celebrations continue following midnight masses at the church. Many people even set up their Christmas Trees on Christmas Eve and various people exchange gifts. People also practice carol singing way before the Christmas Eve for midnight mass and thus 24th December marks as an important day for all of the people who celebrate Christmas as it is the night before Christmas and the celebrations are always special.
Check our Instagram : Ownguru
Facebook : Ownguru
If you have an interesting write-up or any suggestion, write to us at ownguru@gmail.com