Relevance of Gig Economy in current situation
---
A gig economy is a free market system in which temporary positions are common and organizations contract with independent workers for short-term engagements. An estimated 56% of new employment in India is being generated by the gig economy companies across both the blue-collar and white-collar workforce. Few reasons for this exponential growth are:
In the digital age, the worker need not sit at a fixed location—the job can be done from anywhere, so employers can select the best talent available for a project without being bound by geography.
The millennial generation seems to have quite a different attitude to careers. They seek to do work that they want to do rather than have careers that may not satisfy their inner urges.
This suits businesses as well. In a gig economy, they save resources in terms of benefits like provident fund, paid leave and office space.
Heightened migration and readily available job training.
How pandemic is reshaping the gig economy
Aviation, hospitality, automobile entertainment and retail are some of the hardest hit sectors.
The classic gig anchors- Uber and AirBnB, have laid off thousands of people.
In contrast to this, highly skilled professionals —laid off by employers — are joining the gig bandwagon.
Surely, job demand will far outstrip supply, at least in the short-term.
Read more: A Brief Introduction of ASEAN-India Relations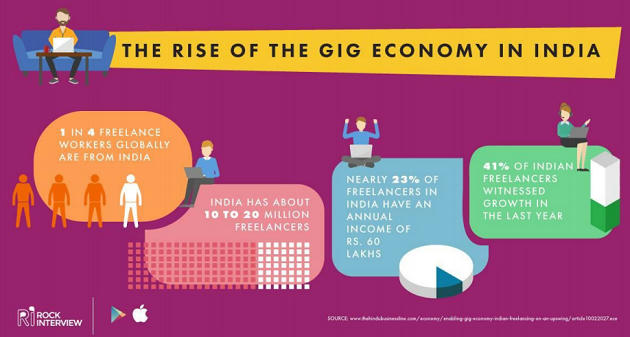 What does the future hold?
A Deloitte report from April notes that Indian organisations are considering to expand the share of gig workers.
Declining full-time jobs will lead to increased assignment-based hiring.
For instance, a graphic designer working from home could be in demand with a media house or Netflix may hire an AI designer paid by an hour to personalize streaming.
But what is missing in the picture? The national database is missing.
4 Focus areas of gig economy
1. National database: A missing link
National database of job seekers and job creators can connect firms with qualified candidates.
A prospective employee would need access to a job database, sorted by skill, geography, duration and emoluments.
Companies should be able to dip into the data pool of talent, experience, location, qualification and expectation.
Currently, both data sets are fragmented and stored in silos.
The government could play the role of a facilitator, in partnership with the private sector.
2. Regulatory protection to gig workforce
The gig economy increases employee vulnerability.
This segment of the economy so far has been outside the ambit of regulatory labour policies.
Social protection like wage protection, health benefits and safety assurance should be made available to gig workers.
The Karnataka government has considered introducing a new labour legislation focused on the gig economy.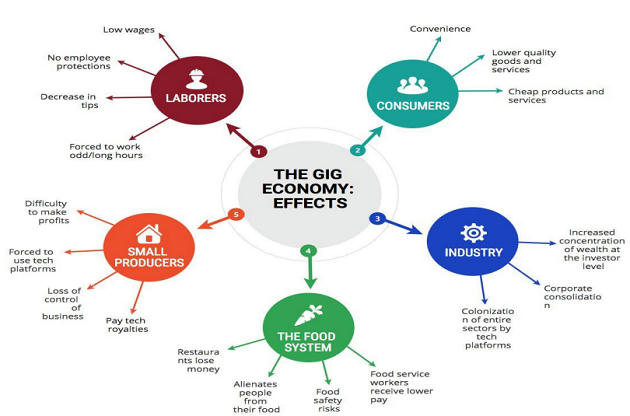 3. Prepare college students for freelancing
Apart from regular campus placements, the placement cells need to reorient and focus on preparing students for freelancing opportunities.
For the educated youth, this could be the first step towards entrepreneurship.
4. Gender equality
Gender is another crucial dimension of the digital labour markets.
The low enrolment of girls for higher education in science, technology, engineering and math would constrict their opportunity in the gig world.
Going ahead, this would need greater policy attention to ensure gender parity.
Way Forward
·  There is a need for the government to step in and implement radical changes in labour laws or implement tax rebates and concessions that can be passed on directly to drivers or delivery partners as health or insurance benefits.
·  However, some experts say that this would directly affect prices of service delivered to the end customer.
·  With a population of over 1.3 billion, and a majority of them below the age of 35, relying on the "gig economy" is perhaps the only way to create employment for a large semi-skilled and unskilled workforce. Therefore, it is important to hand-hold this sector and help it grow. We need policies and processes that give clarity to the way the sector should function.
Check our Instagram : Ownguru
Facebook : Ownguru
If you have an interesting write-up or any suggestion, write to us at ownguru@gmail.com