History Of 29th December – Know Some Of The Prominent Events
Do you know the significance of 'The Allahabad Address'; What 'Charles Macintosh' is known for; When was Texas annexed and When the gem of Karnataka 'Kuvempu' was born?
---
December 29, 1930 – The Allahabad Address
Sir Muhammad Iqbal who was an Indian born scholar and who was a respected and well-known poet and politician of Pakistan delivered a speech at Allahabad in British India on the Monday afternoon of December 29, 1930 which is also known as the Allahabad Address. It was delivered by Sir Iqbal at the All-India Muslim League's 25th annual session.
(Sir Muhammad Iqbal) 
This address is considered significant as in this particular session Sir Iqbal had put forward a vision for the Muslim-Majority provinces of the northwestern India to have an independent state. He defined the Muslims as a distinct nation and proposed that they needed to be recognised as an individual nation with a proper federal system. In the speech Allama Iqbal also explained how Muslims felt and explained some basic principles of his religion (Islam). According to Allama Iqbal, a division of states was necessary to solve a number of problems and so that Hindus and Muslims could peacefully carry forward and explore their religion without any disturbances.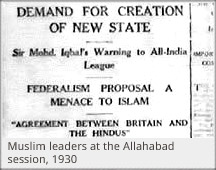 (Demand For Creation Of A New State) 
December 29, 1760 – Birth Anniversary Of Charles Macintosh
 Charles Macintosh was born on 29th of December, 1766 in Glasgow, Scotland. He was a well-known chemist and is known as the inventor  waterproof fabrics. He was highly interested in Chemistry and due to his keen interest in the same, he took up manufacturing of chemicals at the age of 20. He invented waterproof fabric by conducting various experiments with naphtha. Charles Macintosh died on July 25, 1843 and his grave is located in the Glasgow Cathedral graveyard.
December 29, 1845 – Annexation of Texas 
The 1845 Texas Annexation was the annexation of the Republic of Texas into the United States of America. The Republic of Texas was brought into the American Union and is said to be the 28th state of the United States of American. Texas applied for annexation to America in 1836 but was rejected as it was slave-holding region. Texas declared independence from Mexico on 2nd March 1836, and finally on December 29 in 1845 the territory of the republic of Texas was admitted into the United States and is considered as the 28th state of America.
Click here to watch a detailed video about the 'Annexation of Texas': 
December 29, 1904 – Birth Anniversary Of 'Kuvempu'
'Kuvempu' was born on 29 Decmber 1904 in Koppa, Chikmagalur in Karnataka. He died on 11th November 1994 in Karnataka, India. Kuppali Venkatappa Puttappa was known to be the greatest Kannada poet of the 20th century. His pen name was 'Kuvempu' and he was an Indian poet, writer and a critic. He has also received various awards like the Padma Bhushan in 1958, the Padma Vibhushan in 1988 and the Karnataka Ratna in 1992. In 1967, he became the first and foremost Kannada writer to receive the Jnanpith Award which is an Indian literary award. He has also written Jaya Bharata Jananiya Tanujate which is the State Anthem of Karnataka.
(Kannada Poet 'Kuvempu') 
Check our Instagram : Ownguru
Facebook : Ownguru
If you have an interesting write-up or any suggestion, write to us at ownguru@gmail.com