142nd birth anniversary of "The Nightingale of India"
Let's have a look at the life of Sarojini Naidu, a woman with infinite and profound abilities
---
Sarojini Naidu (nee Chattopadhyay) was born on 13 February 1879 in Hyderabad. She was the daughter of Aghornath Chattopadhyay and Barada Sundari Devi. Sarojini Naidu is one of the most iconic and celebrated personalities in the twentieth century. She is also regarded as the 'Nightingale of India.' She was an advocate of civil rights and stood for women empowerment. Apart from being a renowned author and affectionate public speaker who supported the ideology of right-wing ideas, she was also an influential political activist for India's war of independence against the British.
Sarojini Naidu completed her schooling at the University of Madras and went to London and Cambridge to pursue her higher education. Later she was married to Padipati Govindarajulu Naidu. Naidu was an outstanding student with knowledge and expertise in Urdu, Telegu, English, Bengali and Persian. Her exceptional passion for contemporary literature won her a scholarship for going overseas. The literary work of Sarojini Naidu was appreciated by significant Indians including Jawaharlal Nehru and Rabindranath Tagore.
Read more: 197th Birth Anniversary of Swami Dayanandananda Saraswati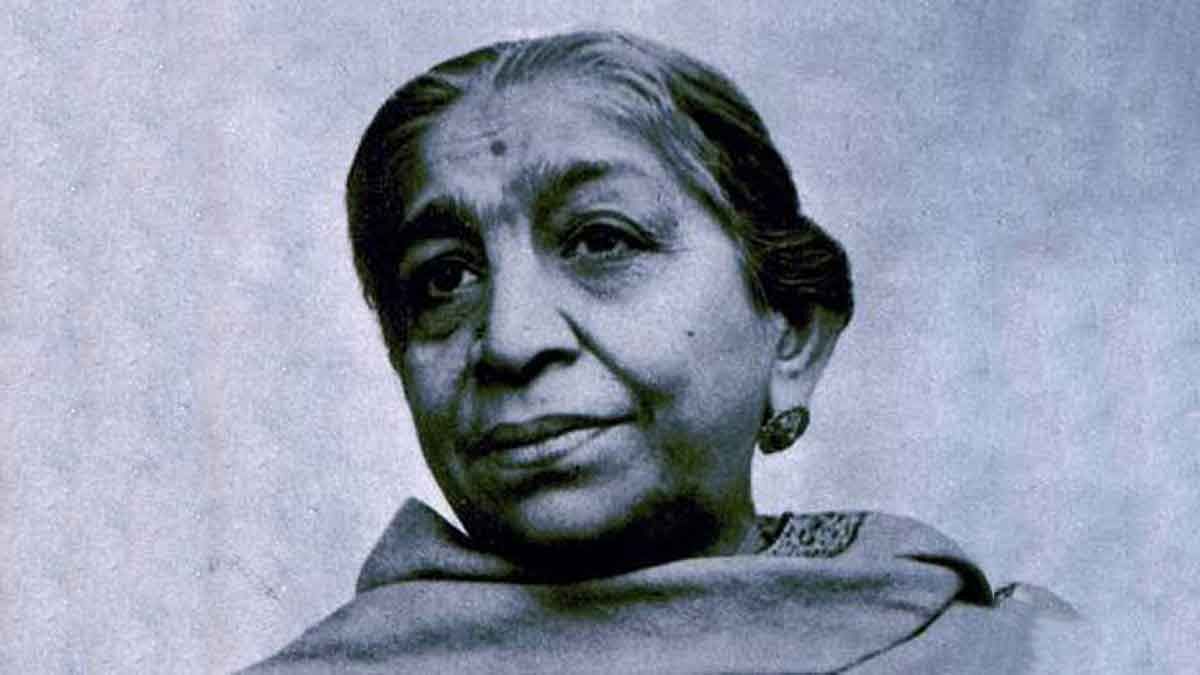 The Literary compositions of Sarojini Naidu.
Golden Threshold (1905) collection of poems.

The Bird of Time: Songs of Life, Death, and the Spring (1912)

The Broken Wing: Songs of Love, Death and the Spring, including "The Gift of India" (1917)

Muhammad Jinnah: An Ambassador of Unity (1919)

The Sceptred Flute: Songs of India, Allahabad: Kitabistan (1943)

The Indian Weavers(1971)
Political Journey of Sarojini Naidu.
Sarojini Naidu started her political journey after the 'Partition of Bengal' in 1905. During that time she came into contact with prominent personalities like  Gopal Krishna Gokhale, Muhammad Ali Jinnah, Rabindra Nath Tagore, C.P. Ramaswami Iyer, Annie Besant, Jawaharlal Nehru and Mahatma Gandhi.
From 1915 -1918 Sarojini Naidu toured various Indian territories and areas to deliver lectures and seminars on social welfare, women empowerment and Nationalism.

In 1917 she founded the  'Women's Indian Association' (WIA).  Along with Annie Besant, the president of WIA she went to London to demonstrate women's votes to the Joint Select Committee.

She became the president of the National Indian Congress in 1925. Also, the annual session of the National Indian Congress in Kanpur was chaired by her.

In 1929, she chaired the East Indian Congress held in South Africa.

In 1930 Sarojini Naidu along with Mahatma Gandhi and Madan Mohan Malaviya, she attended the Round Table Conference.

She played a prominent role during the Civil Disobedience Movement and was imprisoned along with Gandhiji as well as other political leaders.

In 1942 during the Quit India Movement, Sarojini Naidu was arrested and detained with Gandhiji for 21 months.
Awards and Recognitions 
Sarojini Naidu was conferred with various awards and recognitions globally.
Sarojini Naidu was awarded the Britain Government's Kaisar-i-Hind Medal for her contribution and efforts during the outbreak of Plague in India. Later on, she expressed her grief and returned the award in protest over the Jallianwala Bagh massacre that happened in April 1919.
In India her birth date i.e. 13th February, is celebrated as National Women Day to honour all the fierce, bold, powerful and impactful voices of women in the history of India.
She was given the title "Nightingale of India" for her efforts in the field of poetry and writing.
In 2014, Google India observed the 135th birth anniversary of Sarojini Naidu with a 'Google Doodle'.
In 2018 the University of London in the United Kingdom listed Sarojini Naidu for the "150 Leading Women" list.
An Asteroid discovered by Eleanor Helin at Palomar Observatory was named 'Asteroid 5647 Sarojininaidu' in the former memory of Sarojini Naidu.
Throughout her life, Sarojini Naidu worked for the rights of a common man, girl child, women. She encouraged the student community to fight racial and cultural injustice collectively. Under the name of Sarojini Naidu, many organisations have been established i.e. Sarojini Naidu Medical College, Sarojini Naidu College for Women, Sarojini Naidu School of Arts and Communication, Sarojini Devi Eye Hospital.
Sarojini Naidu was appointed governor of Uttar Pradesh after the Independence of India. She was the first governor of India's women. She died on 2nd of March 1949, due to cardiac arrest in office. She will always be remembered as a creator and founder of modern and secular India.
Check our Instagram : Ownguru
Facebook : Ownguru
If you have an interesting write-up or any suggestion, write to us at ownguru@gmail.com