4 years of PSLV-C37: The major hit of ISROo Draft
ISRO created history on 15th February 2017, by launching 104 Satellites in a single mission breaking all the previous records that were set.
---
India created history on 15th February 2017, when ISRO decided to launch 104 Satellites in a single mission Polar Satellite Launch Vehicle (PSLV) from the Satish Dhawan Space Centre in Sriharikota in Andhra Pradesh. This victorious move of ISRO was recognised and applauded globally by all the renowned space workstations. It took almost 29 minutes for the whole flight of the PSLV-C37
Before this mission, Russia launched 37 satellites in a single mission to space by DNEPR rocket in June 2014. The PSLV became functional in 1993. This mission was considered to be its 39th mission. Out of the 104 satellites that were launched three were Indian satellites, Cartosat-2 satellite (714 kg), and its two nano-satellites INS-1 and INS- 2. Then 96 were from the United States and the remaining were from Israel, Kazakhstan, the Netherlands, Switzerland and the United Arab Emirates. The total weight of the satellites was around 1378 kg.
PSLV- C37 was considered to be ISRO's biggest win. It paved the feet of a new India in terms of technology advancement and space science. Let us now talk about some of the major achievements of the Indian Indian Space Research Organisation (ISRO).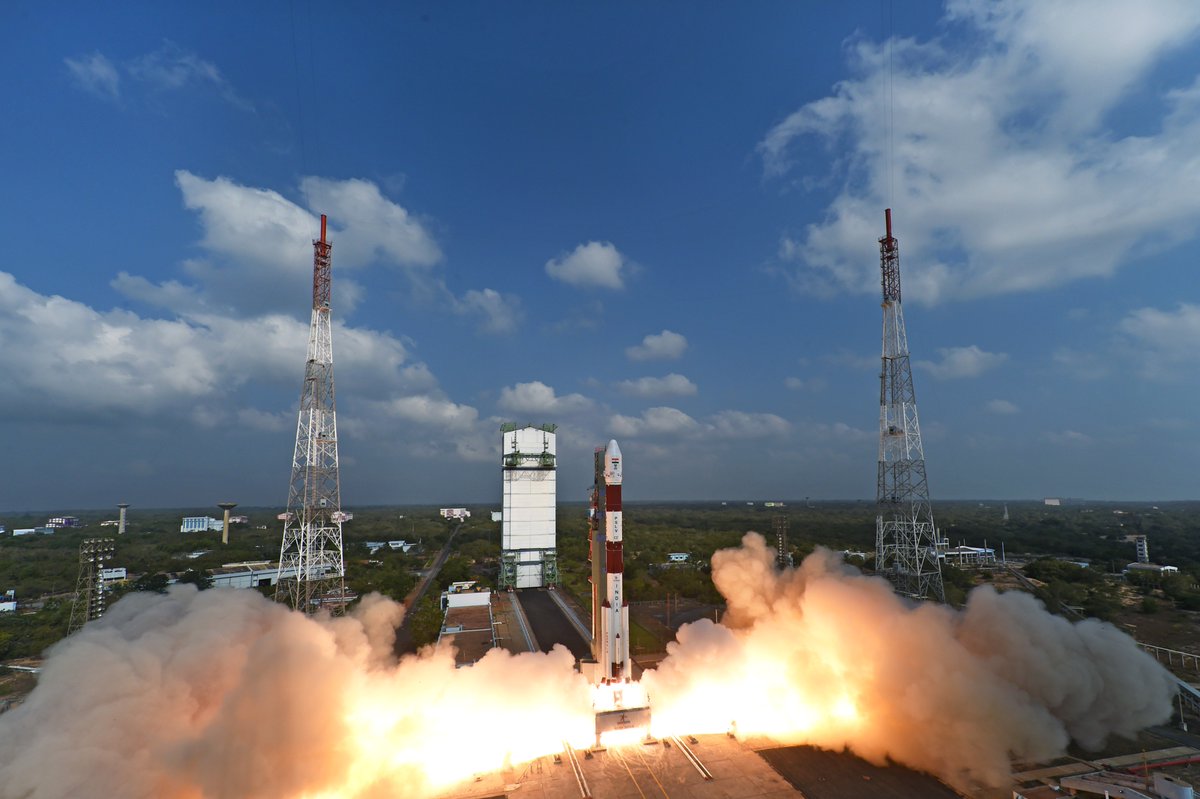 Image credits- ISRO
The major achievements of ISRO
Since its establishment on 15 August 1969, the Indian Space Research Organization (ISRO) has travelled a long way. ISRO has much to celebrate, the journey of ISRO started with a small rocket with a payload capacity of 30 to 70 kg, to the transportation of 4,000 kg.
The journey of space science in India started when Dr Vikram Sarabhai formed Indian National Committee for Space Research (INCOSPAR) in 1962. In 1969, INCOSPAR was renamed ISRO. The vision of ISRO is to "harness space technology for national development while pursuing space science research and planetary exploration".
ISRO built India's first indigenous satellite, Aryabhata, launched by the Soviet Union on April 19, 1975.
On July 18, 1980, Rohini was India's first satellite to be placed into orbit through the SLV-3 launch vehicle which was made in India.
On May 20, 1992, ISRO launched Augmented Satellite Launch Vehicle (ASLV) & Insat – 2A.
On October 22, 2008, Chandrayaan-1 was sent and it completed 200 km during May 2009.
In September 2012, ISRO's 100th space mission was successfully launched using PSLV-C21 rocket. It also put two international satellites into the earth's orbit
India launched the Mars Orbiter Mission on 5 November 2013 and became the first country to successfully perform the first Mars attempt on 24 September 2014. ISRO became both the world's fourth Space Agency and the first in Asia to cross the Mars orbit.
In a single rocket (PSLV-C37), on 15 February 2017, ISRO set a world record for the deployment of 104 satellites. ISRO launched its highest rocket, the GSLV-Mk III, and put GSAT-19 satellite communication on the world's orbit, on 5 June 2017.
On the 14th of November 2018. The satellite GSAT-29 from Sriharikota was successfully launched by ISRO, it is the most powerful satellite with a weight of 3,423 kg to provide enhanced connectivity for remote parts of the world.
The second moon of India, GSLV-Mk III, the 'Chandrayaan-2' mission, was launched by India on 22 July 2019. Chandrayaan-2 is the first space mission in India which will land softly in the south polar area of the moon. The mission will make India the fourth nation to become a soft land rover after Russia, America and China on the Moon's surface.
Check our Instagram : Ownguru
Facebook : Ownguru
If you have an interesting write-up or any suggestion, write to us at ownguru@gmail.com